WOW Its October, Where did September disappear!!!! Every month seems to go quicker and Quicker just now!
So onto this months Challenge for
Sparkles Christmas Challenge.
The theme in Traditional Christmas. I love Seeing Traditional Cards but dont make that many.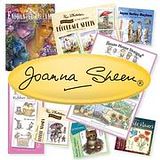 We are sponsored this month by
Joanna Sheen
who is giving our Winner a £10.00 Voucher for Instore
and
Robyns Fetish
who are giving the Other winner 5 Digi Images.
I have used the Digi Stamp
Prissy Poinsettia
from there as my focal point.
I showed this to my Mum and She fell in love with it. May alter it a bit with some wording and give it to them for Christmas. She loves all my cards made with Vintagey stuff and for traditional Christmas you just gotta get the Anna Griffin stuff out!
Card Recipe
A5 Card
Robyns Fetish Prissy Poinsettia Digi Stamp
Frame Anna Griffin
Background Papers HOTP
Mirri Card from stash
Coloured with Spectrum Noirs and Gold Sakura Pen.
I would like to enter my card into the following challenges
The Crafty Pad
- Floral
Im off to get lots of My Crafty To Do List sorted out today. I seem to have lots of things half finished with glitter glue drying or normal glue drying! LOL Craft Desk looks like a disaster zone. Oh Well be better by bedtime (I hope!!!)
My Stick Family from WiddlyTinks.com