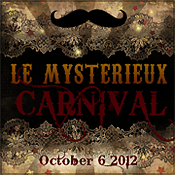 While Walking in the Woods the other week I stumbled upon a
Witches Cottage
and found a Silver Ticket to Le Mysterieux Carnival.
So thought I would pop on down for a look!!!
There are a few stalls in the Carnvial, Lets take a look and see whats there!!
Oh Look a Witch is flying by, Lotions and Potions in her hand!!
Aqualia The Mermid is on Show. How Many Mermaids do you know?!?!
At the Kissing Booth a Zombie Stripper, Dont think I want to pay for her kisses!!!
Time for some Candy Floss.
Or Would you like a Toffee Apple.
WOW the Beautiful Gypsy Esmerelda, Cross her palm with Silver and she may tell you whats in the Crystal Ball!
The Scary Go round looks just that, its Monsters look to scary to sit on, Think they may just eat you!!
WOW A Goblin Beauty Parade and Looks like the Winners just been picked, Its Miss Goblin 2012!!! What a Beauty!!!
In the blink of an Eye it was gone so fast, All that remained was some Glitter and Dust!!
I would like to thanks to
Anna
and
Marfi
for Hostessing the
Carnival
and putting so much work into it.
I also want to say the HUGEST THANKS EVER to Rick StDennis for the Wonderful Images he gave me to play with. You are a Star xx You can find Ricks Images in his Etsy Store.
I have a Blog post HERE with all the Info about how I made my Carnival with other Pictures as well.
Final Pic is of Belle who was very interested in my Fun in the Garden so had to pose for a pic too. She may well be the Giant Dog act in the Carnival. Bless she got covered in Glitter Daft Woofy Chops!!!
Thanks For dropping by,
Bright Blessings
Hazelxoxo