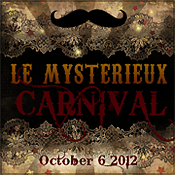 I love a Good Halloween Party so this year the Lovely Anna and Marfi are hosting this one. I cant wait. All you need is your Silver Ticket. (My thinking Cap is on already for what mine will look like!!!)
Click on the Above Picture to see what you need to do to Join the Fun.
Its n October the 6th!
My Stick Family from WiddlyTinks.com