WOW July already!!! Can you believe it. Tine is flying past us.
Its time for another Challenge over at Sparkles Monthly Challenge.
Shaz has a great sketch for you this month.
There is a DT Call going for the Team too so pop over and get the details!!!
We also have some super sponsors.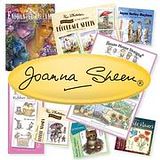 With a prize of a £10.00 voucher for 1 lucky winner
And a second prize for 1 lucky winner is 5 digi's from
I used an Image from Robyns Fetish. (Thanks to the Girls over there for it)
Looking at it it makes me think of the old Ladybird Books I used to read when I was small. Since it made me think of Days gone by I had to get my Anna Griffin stuff out!
Premade Anna Griffin Card.
Ribbon, Sentiment and Backing paper also Anna Griffin
I would like to enter my card into the following challenge.
Im off now to catch up with some chores. YUCK!!!
Hope you have a lovely Sunday xx
My Stick Family from WiddlyTinks.com