Good Morning Everyone. WOW its June!!!!!!
MONOCHROME.
I have gone for a CAS look and ended up making 5 cards the same.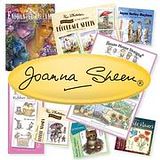 with a £10.00 Voucher
with $10.00
2 Great Prizes, Its never to early to get making your cards and what better than to win a prize doing it!!!
My Card inserts are just plain white and are the linen paper again, I just found this paper in the cupboard. Oops its only been there since I moved in. I really should look through my craft stuff more often as I do like it.
Card Recipe
5 x 5 Card
Linen Paper
SU Stamps
Stickles Glitter Glue.
I would like to enter my Cards into the following,
Im off now to hopefully relax again. I have a few cards which need finishing off so getting them done. I love just sitting colouring in. It really does relax you.
My Stick Family from WiddlyTinks.com